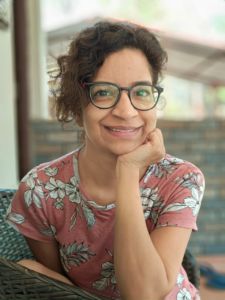 ABOUT DR. REENA SINGH
HER MISSION AND BACKGROUND:
Reena Singh is more than just the founder of Khushi Therapy Centre; she's a guiding light for countless parents and children. With her deep-rooted empathy, she effortlessly bridges the gap between a seasoned professional and someone who deeply resonates with the challenges and milestones you face every day.
HER JOURNEY: From Challenge to Triumph
Reena's life story is a testament to resilience and hope. Born prematurely, with societal labels confining her as a 'difficult' child, her early years were a blend of misunderstandings and struggles. It wasn't until her venture into Occupational Therapy that she uncovered the underlying sensory challenges shaping her life. This revelation was more than just personal; it was a powerful message about the importance of perceiving children beyond superficial labels, understanding their unique worlds.
Fueled by the relentless support of her father and the daily encouragement from her spouse, Reena cultivated a mission to leave behind a legacy. A legacy that promotes love, understanding, and the empowerment of seeing a child in their beautiful entirety.
As a mother to Neel and a pet parent to Theo, she turned her vision into reality with 'Khushi', an embodiment of her 23-year-long dream and dedication.
Mission: Creating Bridges of Understanding
Every step Reena takes is driven by a purpose – to witness and facilitate the growth of children diagnosed with Autism. This sense of purpose does more than guide her professional journey; it heals and completes her. Khushi Therapy Centre stands as a testament to this dedication, offering unwavering support to parents, equipping them with tools and techniques through Occupational Therapy and other integrative approaches.
Accomplishments & Services:
Reena's voyage over the years has touched thousands of lives. With an ever-burning passion for learning, even after her formal education, she offers a plethora of resources:
Courses – An invitation to delve deep into her reservoir of knowledge.
Events – Engage, interact, and grow with her in tailored sessions.
Publications – Discover more of her insights in her books.
Her journey is dotted with moments of pride – from sharing platforms with luminaries like Sachin Tendulkar and Mandira Bedi to the lauding of her book, "Little Parenting Guru", as an Amazon bestseller. Her efforts haven't gone unnoticed, with accolades like the prestigious 'Gem of India' award adorning her mantle.
In her words
In this complex journey of parenting, every child, irrespective of societal labels, has the potential to flourish. Reena stands ready, with a treasure trove of experience, eager to empower each parent to champion their child's journey. Together, let's embark on this transformative voyage of love, understanding, and growth.
Always remember, your dedication to your child is the most beautiful gift. And in this journey, with its highs and lows, know that Reena, along with Khushi Therapy Centre, walks beside you – every single step.